You'll have to forgive my brain...it wanders. A lot. I'm still working on the hallway...and the yard...and a ton of other projects around this house of ours. But today I'm looking for some dining chair inspiration.
Years ago Alan and I purchased 8 Chippendale dining chairs off EBay with the intention of painting them white. Only two received the paint treatment. The others were neglected then eventually sold. I love, love love the two white Chippendale chairs we use as host chairs. Our other chairs are from Ikea. Cheap, but I like them.
I had never changed the fabric of the Chippendales until last Thanksgiving (seriously, that morning.) It was originally a basic beige upholstery fabric that had seen better days. To spruce things up before the big turkey day I quickly upholstered some old Ikea curtains to the chairs. I really wasn't that concerned with the longevity since it was already scrap fabric and I had intended to replace it soon anyhow. (Soon? It's almost April.) They looked fine for about oh... 2 days. These chairs have seriously taken a beating since moving into our home where we use the "good" dining table for our everyday dining.
With my monthly
Lunch Club
to be hosted here next week, I'm on the hunt for a fabric option that will be a bit more permanent and practical. For everyday use a wipeable fabric would make sense with three kids. I like the idea of leather (OK, pleather). Here's an idea of one option on the mind...dark and wipeable.
(These aren't the same style of Chippendale chairs we own, but the theory is the same.)
This entire home at Coastal Living makes me swoon. Love how the chairs feel a bit edgy in this could-be-too-sweet dining room.
How easy would these chairs be to wipe clean?
Not quite the fabric I had in mind but love the contrast.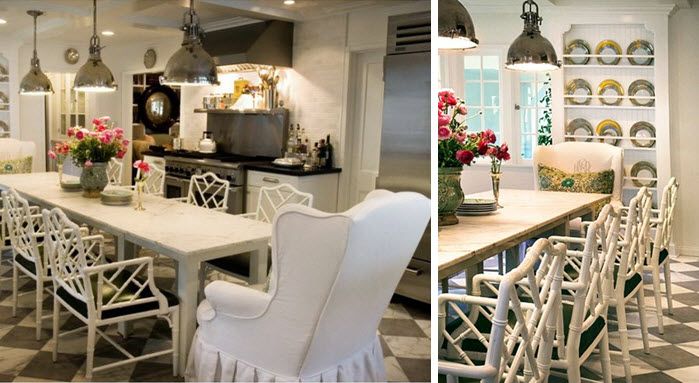 This kitchen has been on the top of my dream kitchen list for years. Love!
And one more just for fun. This floral print is lovely, but think I'd rather use such a beauty as an accent....at a desk perhaps?
So there you have it. What my mind is thinking about these days. Is there any question why things don't get done around here? My body and my budget just can't keep up with my thoughts!
What's on your mind lately?