Last year a friend of mine asked me to help with her daughters Mermaid themed birthday party at our local pool. Of course I was all in!
The invitations she purchased from
this etsy shop
were the party's inspiration.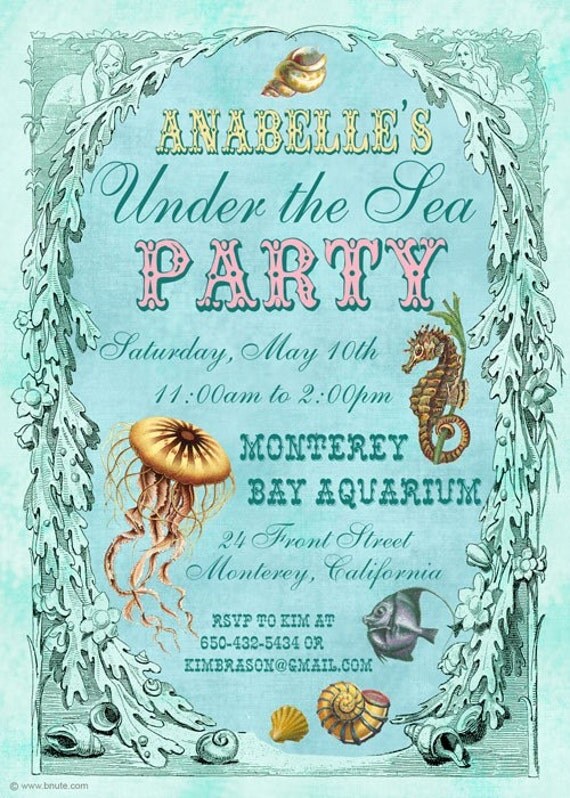 The idea was beautiful, the catch was...Our Aquatic Center could care less about how cute you want your party to be. So, not only was there a limited budget, we only had about 20 minutes to set up before the party began. Challenge accepted...
Here is what we came up with...

3M Command Wall Hooks ended up being my best friend on this project. I was able to hang up two hooks, which held up a table cloth as the backdrop. I found some faux plants I thought looked the most like seaweed, cut off the stems and hung from the fishing line. The bubbles were created by cutting circles out of glossy velum paper and sewn together on my sewing machine. they were then hung from the room's drop ceiling. Sea life was hand drawn onto poster board, cut out and glittered in silver.
Mermaid theme party
An old frame was painted the perfect shade of aqua to coordinate with the invitations. While I had hoped to hang the frame, it appeared to be too heavy to hang from the drop ceiling, so it was propped up against the wall instead. Still beautiful. I then used the invitation again as inspiration to print and cut out the birthday girl's name, taped it to the fish net and called the backdrop finished.
My friend was in charge of the food part of the party. She ordered the cake special from Wal-Mart (I know! who knew?), topped it with chocolate shells she also ordered off etsy. (So sorry I don't know which shop)
An old treasure box I had laying around was used to hold the chocolate shell and coin favors.
And of course there was blue punch!
The centerpieces were a special project I loved working on! I took some unfinished wood bird feeders from Michael's, painted them a sand color and tried to let the mermaids' castles come to life.
Sand was
stolen
used from the local park, painted onto the sides and sprinkled around the base. I tried to achieve the underwater look by gluing moss and dried baby's breath around each castle. I have no idea what the baby's breath represents in the sea world but it worked for me.

The tables were covered in blue table cloths and topped with the perfect shade of blue netting material I found at Hobby Lobby. I'm not sure what that netting is usually used for but it shimmered and, although you can't tell in the photo, it looked like waves on the tables.
The Happy Birthday Banner was my last thought...oops. I had run out of money but was able to pull out some ribbon I already had and use clothes pins to hang printed letters. The space was very tight; the banner was just enough to add something special to this side of the room.
Since we were extremely limited on time at the Aquatic Center and I still needed to make sure everything would work as planned...I set up the scene in my living room first. Again, the 3M wall hooks helped me out.
That was such a fun birthday to help with! Thanks to my gal pal for the opportunity!
So what do you think? Does it look like our inspiration invitation?